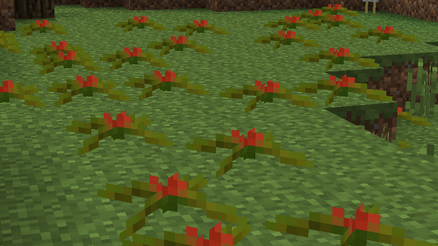 Welwitschia is a small flat plant that is based off the real-life species, Welwitschia mirabilis. Punching the plant will not destroy the item, unlike vanilla grass. Dinosaurs or other herbivorous prehistoric creatures will not eat this plant. Unlike almost everything else in the mod, the Welwitschia is not actually extinct. It stills lives today. The plant in the mod is most likely based off of an extinct species of welwitschia.
Like most other content in the mod, it does not spawn naturally in the world.
Appearance
Welwitschia is a small short flower-like plant, that lies very close to the ground. It has a red middle and four leaves that extend outward. When used for decoration, it works best when mixed with other plants, as it isn't very noticeable on its own.
Obtaining
The Welwitschia can only be obtained by putting a Plant Fossil in a Analyzer. There is a rare chance that the Analyzer will give back Fossilied Welwitschia Seeds, which you then must put in a Culture Vat. Unless the Culture Vat fails and spawns a Failure Plant, it will then turn the Fossilized Seeds into normal Welwitschia Seeds which can be planted.
Gallery
Science

Analyzer ■ Archeology Workbench ■ Bubble Blower ■ Culture Vat ■
Feeder ■ Sifter ■ Time Machine

Paleontology

Amber Ore ( Amber) ■ Ancient Ferns ■ Failuresaurus Trail ■ Fossil
( Bio-Fossil) ( Skull) ■ Iced Stone ■ Permafrost ( Frozen Meat) ■ Tar ( Tar Fossil) ■
Volcanic Ash ■ Volcanic Rock ( Brick) (Stair) (Slab)

Archeology

Amphora ■ Ancient Figurines ■ Ancient Glass ■ Ancient Stone ( Brick) (Stair) (Slab) ■
Ancient Treasure Chest ■ Ancient Wood ( Pillar) (Stair) (Slab) ( Plate) ■
Anu Statue ■ Anubite Statue ■ Drum ■ Kylix ■ Mysterious Sarcophagus ■ Volute

Crafted

Calamites Plank ( Door) ( Trapdoor) (Fence) (Stair) (Slab) ■ Dense Sand ■
Obsidian Spikes ■ Palaeoraphe Plank ( Door) ( Trapdoor) (Fence) (Stair) (Slab) ■
Reinforced Glass ■ Skull Lantern

Plants

Archaeosigillaria ■ Bennettitales ■ Calamites Log ( Leaf) ■ Cephalotaxus ■
Crataegus ■ Dillhoffia ■ Duisbergia ■ Ephedra ■ Failure Plant ■
Florissantia ■ Foozia ■ Horsetail ■ Osmunda ■ Palaeoraphe Log ( Leaf) ■
Sarracenia ■ Tempskya ■ Vaccinium ■ Welwitschia ■ Zamites
Community content is available under
CC-BY-SA
unless otherwise noted.