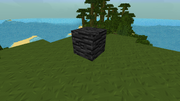 Tar is a liquid found naturally in small pits in swamp biomes. If you try to walk over it, it will drag you down like quicksand. When it reaches your head, it will do half a heart of suffocation damage every second. It spews large black particles. Occasionally, Tar Slimes will spawn around the Tar pits.
It is impossible to escape tar, since stepping in it renders the player unable to jump or swim up. Much like lava, all items that come into contact with tar disappears, making contact with it a very costly death. Tar can also be set on fire which will spread very quickly. 10,000 years ago, tar was a common cause of animal deaths in certain parts of the world.
Right-clicking tar with a bucket will give you a tar bucket, which can be crafted into 4 tar drops . These drops are then analyzed to have a chance of giving a tar fossil that can be analyzed to obtain Cenozoic creature DNA
GALLERY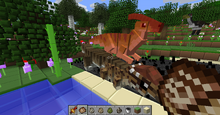 Science

Analyzer ■ Archeology Workbench ■ Bubble Blower ■ Culture Vat ■
Feeder ■ Sifter ■ Time Machine

Paleontology

Amber Ore ( Amber) ■ Ancient Ferns ■ Failuresaurus Trail ■ Fossil
( Bio-Fossil) ( Skull) ■ Iced Stone ■ Permafrost ( Frozen Meat) ■ Tar ( Tar Fossil) ■
Volcanic Ash ■ Volcanic Rock ( Brick) (Stair) (Slab)

Archeology

Amphora ■ Ancient Figurines ■ Ancient Glass ■ Ancient Stone ( Brick) (Stair) (Slab) ■
Ancient Treasure Chest ■ Ancient Wood ( Pillar) (Stair) (Slab) ( Plate) ■
Anu Statue ■ Anubite Statue ■ Drum ■ Kylix ■ Mysterious Sarcophagus ■ Volute

Crafted

Calamites Plank ( Door) ( Trapdoor) (Fence) (Stair) (Slab) ■ Dense Sand ■
Obsidian Spikes ■ Palaeoraphe Plank ( Door) ( Trapdoor) (Fence) (Stair) (Slab) ■
Reinforced Glass ■ Skull Lantern

Plants

Archaeosigillaria ■ Bennettitales ■ Calamites Log ( Leaf) ■ Cephalotaxus ■
Crataegus ■ Dillhoffia ■ Duisbergia ■ Ephedra ■ Failure Plant ■
Florissantia ■ Foozia ■ Horsetail ■ Osmunda ■ Palaeoraphe Log ( Leaf) ■
Sarracenia ■ Tempskya ■ Vaccinium ■ Welwitschia ■ Zamites
Community content is available under
CC-BY-SA
unless otherwise noted.