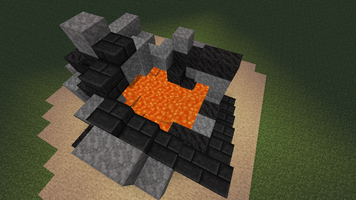 Slabs are themed decorative half blocks that allow players or other creatures to change elevation without jumping, just like in vanilla. They are all obtained from their respective full-blocks, some of them can be found naturally in modded structures. They all have the same recipe shape in the crafting table.
All wooden types can be used as fuel in furnaces, smelting 0.75 items per slab.
CRAFTING
[
]
Only the wooden slabs (except for ancient wood) can be used to make scratching posts. The type of wood does not affect how the scratching post looks.
ANCIENT STONE SLABS
[
]
RECIPE
[
]
ANCIENT WOODEN SLABS
[
]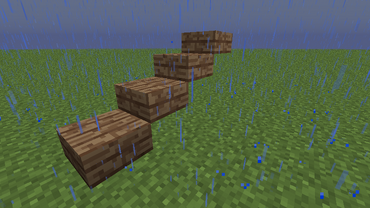 RECIPE
[
]
CALAMITES SLABS
[
]
RECIPE
[
]
PALAEORAPHE SLABS
[
]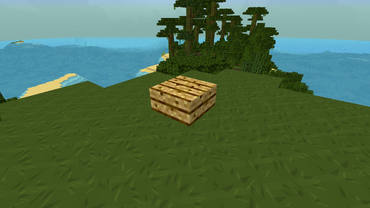 RECIPE
[
]
VOLCANIC SLABS
[
]
RECIPE
[
]
Science

Analyzer ■ Archeology Workbench ■ Bubble Blower ■ Culture Vat ■
Feeder ■ Sifter ■ Time Machine

Paleontology

Amber Ore ( Amber) ■ Ancient Ferns ■ Failuresaurus Trail ■ Fossil
( Bio-Fossil) ( Skull) ■ Iced Stone ■ Permafrost ( Frozen Meat) ■ Tar ( Tar Fossil) ■
Volcanic Ash ■ Volcanic Rock ( Brick) (Stair) (Slab)

Archeology

Amphora ■ Ancient Figurines ■ Ancient Glass ■ Ancient Stone ( Brick) (Stair) (Slab) ■
Ancient Treasure Chest ■ Ancient Wood ( Pillar) (Stair) (Slab) ( Plate) ■
Anu Statue ■ Anubite Statue ■ Drum ■ Kylix ■ Mysterious Sarcophagus ■ Volute

Crafted

Calamites Plank ( Door) ( Trapdoor) (Fence) (Stair) (Slab) ■ Dense Sand ■
Obsidian Spikes ■ Palaeoraphe Plank ( Door) ( Trapdoor) (Fence) (Stair) (Slab) ■
Reinforced Glass ■ Skull Lantern

Plants

Archaeosigillaria ■ Bennettitales ■ Calamites Log ( Leaf) ■ Cephalotaxus ■
Crataegus ■ Dillhoffia ■ Duisbergia ■ Ephedra ■ Failure Plant ■
Florissantia ■ Foozia ■ Horsetail ■ Osmunda ■ Palaeoraphe Log ( Leaf) ■
Sarracenia ■ Tempskya ■ Vaccinium ■ Welwitschia ■ Zamites