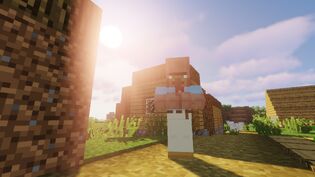 The Paleontologist villager is a type of villager added in Update 8.0.4. They spawn very commonly in villages in Paleontologist Villager Houses.
Their house, which resembles two small villager houses stacked on top of each other, has a chest and an Analyzer. They buy and sell mod items such as Bio-fossils, Skull Blocks and bones in exchange for a certain amount of emeralds.
The villager is recognizable by the light blue shirt and tan pants, which resembles Dr. Alan Grant, a character in the film Jurassic Park.
They have exactly the same AI as other villagers; they are passive mobs with 20 hp that walk around during day and hide in shelter at night. They run from zombies, interact with other villagers, and trade with the player when right-clicked.
Dinosaurs

Allosaurus ■ Ankylosaurus ■ Brachiosaurus ■ Ceratosaurus ■
Citipati ■ Compsognathus ■ Deinonychus ■ Dilophosaurus ■ Diplodocus ■ Dryosaurus ■ Gallimimus ■ Ornitholestes ■ Pachycephalosaurus ■ Parasaurolophus ■ Spinosaurus ■ Stegosaurus ■ Therizinosaurus ■ Triceratops ■ Tyrannosaurus ■ Velociraptor

Aquatic Creatures

Alligator Gar ■ Coelacanth ■ Crassigyrinus ■ Diplocaulus ■ Henodus ■ Ichthyosaurus ■
Liopleurodon ■ Megalodon ■ Megalograptus ■ Mosasaurus ■ Nautilus ■
Plesiosaurus ■ Sturgeon ■ Tiktaalik

Birds

Confuciusornis ■ Dodo ■ Gastornis ■ Kelenken ■ Phorusrhacos ■ Titanis

Mammals

Elasmotherium ■ Mammoth ■ Megaloceros ■ Platybelodon ■ Smilodon ■ Quagga

Pterosaurs

Land Reptiles and Proto-mammals

......

Arthropods

......

Upcoming

N/A

Enemies

Anu ■ Anubite ■ Dead Bones ■ Easter Egg Mob ■ Failuresaurus ■
Sentry Pigman ■ Tar Slime

Misc

Archaeologist Villager ■ Fossil Model ■ Paleontologist Villager ■ Tamed Zombie Pigman

Carnivores appear in

red.

Herbivores appear in

green.

Omnivores appear in

light blue.

Piscivores appear in

dark blue.

Enemies/misc appear in

brown.

means the creature can break blocks. means the creature is an apex predator/boss.
Community content is available under
CC-BY-SA
unless otherwise noted.