The Kylix is a type of ancient pottery from Ancient Greece, used as a cup for drinking water or wine, and created using pottery shards. They can be found in naturally spawning structures like temples, or in chests, alongside the amphora and volute, and there are several different coloration varieties that can be made. They are purely for decoration.
Broken Kylix
Edit
The broken kylix can be found in many mod structures, as well as crafted using four pottery shards in a "T" shape. When placed, it is a small cup-like object.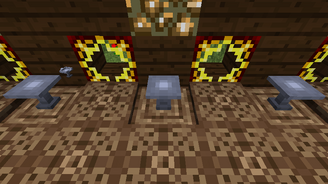 Restored Kylix
Edit
The broken kylix can be repaired into a restored kylix using an archeology workbench and several pottery shards. The restored kylix is more detailed than the broken kylix, and is not missing any pieces.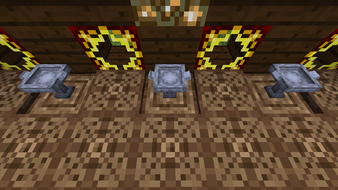 Coloured Kylix
Edit
The coloured kylix is the same shape as the restored kylix, but has been dyed or painted a different colour. It does not naturally spawn in any structures, and thus must be made by the player. There are three types of coloured kylix, the red figure, black figure, and porcelain.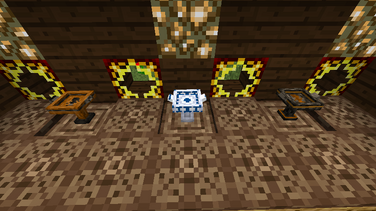 Photo Gallery
Edit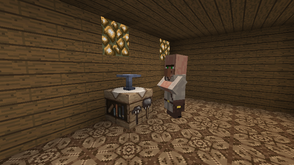 Science

Analyzer ■ Archeology Workbench ■ Bubble Blower ■ Culture Vat ■
Feeder ■ Sifter ■ Time Machine

Paleontology

Amber Ore ( Amber) ■ Ancient Ferns ■ Failuresaurus Trail ■ Fossil
( Bio-Fossil) ( Skull) ■ Iced Stone ■ Permafrost ( Frozen Meat) ■
Tar ( Tar Fossil) ■ Volcanic Ash ■ Volcanic Rock ( Brick) (Stair) (Slab)

Archeology

Amphora ■ Ancient Figurines ■ Ancient Glass ■ Ancient Stone ( Brick) (Stair) (Slab) ■ Ancient Treasure Chest ■ Ancient Wood ( Pillar) (Stair) (Slab)
( Plate) ■ Anu Statue ■ Anubite Statue ■ Drum ■ Kylix ■
Mysterious Sarcophagus ■ Volute

Crafted

Dense Sand ■ Obsidian Spikes ■ Palaeoraphe Plank ( Door) ( Trapdoor) (Fence) (Stair) (Slab) ■ Reinforced Glass ■ Skull Lantern

Plants

Bennettitales ■ Cephalotaxus ■ Crataegus ■ Dillhoffia ■ Ephedra ■
Failure Plant ■ Florissantia ■ Foozia ■ Horsetail ■ Lycopodiophyta ■
Osmunda ■ Palaeoraphe Log ( Leaf) ■ Sarracenia ■ Tempskya ■
Vaccinium ■ Welwitschia ■ Zamites