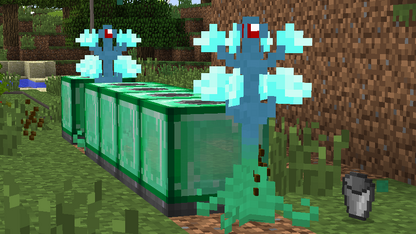 The Failure Plant is a fictional, undead, defective, misshapen type of plant that is the flora version of the Failuresaurus. The Failure Plant will spew out various particles for several minutes before its unnatural life comes to an end. Herbivorous dinosaurs or other prehistoric creatures will not eat this plant.
Appearance
The Failure Plant is a large plant, sitting at just under the players height. The larger half is colored with a light blue, with four branches that end with a very bright round substance that changes colors. The lower half is green and has four curled up leaves. At the top-middle of it is a bright red, almost eye-like color. It will spew particles, which are most likely chemicals, everywhere.
Failing
Every so often, there is a chance Culture Vats, when cultivating fossilized plant seeds, will fail and spawn a Failure Plant. This will destroy the Culture Vat, leaving a dirt block in its place, and drop the Fossilized Seeds & Spores.
Gallery
Science

Analyzer ■ Archeology Workbench ■ Bubble Blower ■ Culture Vat ■
Feeder ■ Sifter ■ Time Machine

Paleontology

Amber Ore ( Amber) ■ Ancient Ferns ■ Failuresaurus Trail ■ Fossil
( Bio-Fossil) ( Skull) ■ Iced Stone ■ Permafrost ( Frozen Meat) ■ Tar ( Tar Fossil) ■
Volcanic Ash ■ Volcanic Rock ( Brick) (Stair) (Slab)

Archeology

Amphora ■ Ancient Figurines ■ Ancient Glass ■ Ancient Stone ( Brick) (Stair) (Slab) ■
Ancient Treasure Chest ■ Ancient Wood ( Pillar) (Stair) (Slab) ( Plate) ■
Anu Statue ■ Anubite Statue ■ Drum ■ Kylix ■ Mysterious Sarcophagus ■ Volute

Crafted

Calamites Plank ( Door) ( Trapdoor) (Fence) (Stair) (Slab) ■ Dense Sand ■
Obsidian Spikes ■ Palaeoraphe Plank ( Door) ( Trapdoor) (Fence) (Stair) (Slab) ■
Reinforced Glass ■ Skull Lantern

Plants

Archaeosigillaria ■ Bennettitales ■ Calamites Log ( Leaf) ■ Cephalotaxus ■
Crataegus ■ Dillhoffia ■ Duisbergia ■ Ephedra ■ Failure Plant ■
Florissantia ■ Foozia ■ Horsetail ■ Osmunda ■ Palaeoraphe Log ( Leaf) ■
Sarracenia ■ Tempskya ■ Vaccinium ■ Welwitschia ■ Zamites
Community content is available under
CC-BY-SA
unless otherwise noted.