| | |
| --- | --- |
| | This page contains bugged, unfinished, or unused content, and therefore is subject to speculation and change in the future. |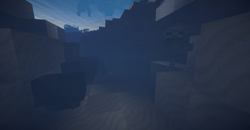 ~"They were sailors, warriors or passengers before the ship was sunk. Now they are just some dead bones standing there with silence. What...? You say they turned around...?"~
A "bones" is a deactivated mob, from early on in the original F&A mod, formerly referred to as "dead bones." They were originally intended to spawn underwater on Shipwrecks and attack players, dropping bones and skulls upon death. As of 8.0.0, their spawn eggs themselves have been removed, and they can no longer be spawned at all. They formerly had 20 health points. 
When they were still in the mod, they had to be kept in the water or the dark as they burnt in sunlight. They also had the ability to walk underwater instead of floating on the surface like other Minecraft mobs.
Dinosaurs

Allosaurus ■ Ankylosaurus ■ Brachiosaurus ■ Ceratosaurus ■
Compsognathus ■ Deinonychus ■ Dilophosaurus ■ Dryosaurus ■ Gallimimus ■
Pachycephalosaurus ■ Parasaurolophus ■ Spinosaurus ■ Stegosaurus ■
Therizinosaurus ■ Triceratops ■ Tyrannosaurus ■ Velociraptor

Sea Creatures

Alligator Gar ■ Coelacanth ■ Henodus ■ Ichthyosaurus ■ Liopleurodon ■ Megalodon ■ Megalograptus ■ Mosasaurus ■ Nautilus ■ Plesiosaurus ■ Sturgeon

Birds

Confuciusornis ■ Dodo ■ Gastornis ■ Kelenken ■ Phorusrhacos ■ Titanis

Mammals

Elasmotherium ■ Mammoth ■ Megaloceros ■ Smilodon ■ Quagga

Pterosaurs

Land Reptiles

Insects

Upcoming

N/A

Enemies

Anu ■ Anubite ■ Dead Bones ■ Easter Egg Mob ■ Failuresaurus ■ Sentry Pigman ■
Tar Slime

Misc

Carnivores appear in

red.

Herbivores appear in

green.

Omnivores appear in

light blue.

Piscivores appear in

dark blue.

Enemies/misc appear in

brown.

means the creature can break blocks. means the creature is an apex predator/boss.