Bio-Fossil

Stack Size

64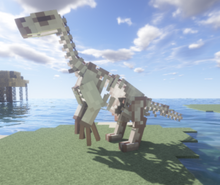 (Note: in addition to Fossil block, this will be removed in a later version and a new system will be introduced, you can read more about this here :Upcoming Content)
The bio-fossil is a very important and versatile item found in fossil blocks. The most common use of the bio-fossil is to obtain DNA, which is used to create prehistoric creatures. When put in the analyzer, it can yield DNA, sand, bonemeal, cactus green, and occasionally, nothing.
Fossil models are also made with bio-fossils. Right-clicking on the ground while holding a bio-fossil will produce a random species' fossil model. Breaking the fossil model returns the bio-fossil.
Lastly, one bio-fossil is necessary to craft an analyzer and one to craft a Dinopedia.
Science

Avian Eggs ■ Bio-Goo ■ Non-Avian Eggs ■ DNA ■ Embryo ■ Palaeoraphe Sapling
( Petrified) ■ Seeds & Spores ( Fossilized) ■ Spawn & Sacs

Paleontology

Amber ■ Arm Bone ■ Bio-Fossil ( Tar) ( Plant) ■ Dominican Amber ■
Empty Shell ■ Foot Bone ■ Frozen Meat ■ Leg Bone ■ Magic Conch ■
Skull ■ Rib Cage ■ Unique Bones ■ Tar Bucket ( Drop) ■ Vertebrae

Archeology

Ancient Key ■ Ancient Helmet ( Broken) ■ Ancient Sword ( Broken) ■
Fossil Record ■ Pottery Shard ■ Scarab Gem ( Aquatic) ■ Stone Tablet
( Scrap)

Food

Chicken Essence ■ Cooked Egg ■ Failuresaurus Flesh ■
Raw Animal Meat ( Cooked) ■ Poisonous Potato Essence ■ Raw Chicken Soup ( Cooked) ■ Sio-Chiu-Le

Tools

Ancient Clock ■ DinoPedia ■ Javelin ■ Scarab Axe ■ Scarab Hoe ■
Scarab Pickaxe ■ Scarab Shovel ■ Scarab Sword ■ Skull Armor ■
Skull Stick ■ Spawn Eggs ■ Tooth Dagger ■ Whip

Enrichment

Live Coelacanth ( Live Alligator Gar) ( Live Nautilus) ( Live Sturgeon) ■
Toy Ball ■ Tethered Log ■ Scratching Post