Bio-Fossil

Stack Size

64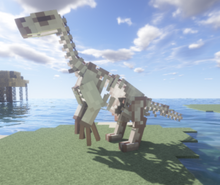 The bio-fossil is a very important and versatile item found in fossil blocks. The most common use of the bio-fossil is to obtain DNA, which is used to create prehistoric creatures. When put in the analyzer, it can yield DNA, sand, bonemeal, cactus green, and occasionally, nothing.
Bio-fossils can also be used as organic material in the culture vat, which transforms DNA into embryos and avian and non-avian eggs. However, at 20 bio-fossils per cultivation session, it is far more efficient to use the other alternatives (such as buckets of milk). 
Fossil models are also made with bio-fossils. Right-clicking on the ground while holding a bio-fossil will produce a random species' fossil model. Breaking the fossil model returns the bio-fossil.
Lastly, one bio-fossil is necessary to craft an analyzer and one to craft a Dinopedia.Bio fossil skeleton of a Therizinosaurus
Science

Avian Eggs ■ Non-Avian Eggs ■ DNA ■ Embryo ■ Palaeoraphe Sapling
( Petrified) ■ Seeds & Spores ( Fossilized) ■ Spawn & Sacs

Paleontology

Amber ■ Arm Bone ■ Bio-Fossil ( Tar) ( Plant) ■ Dominican Amber ■
Empty Shell ■ Foot Bone ■ Frozen Meat ■ Leg Bone ■ Magic Conch ■
Skull ■ Rib Cage ■ Unique Bones ■ Tar Bucket ( Drop) ■ Vertebrae

Archeology

Ancient Key ■ Ancient Helmet ( Broken) ■ Ancient Sword ( Broken) ■
Fossil Record ■ Pottery Shard ■ Scarab Gem ( Aquatic) ■ Stone Tablet
( Scrap)

Food

Cooked Egg ■ Essence of Chicken ■ Failuresaurus Flesh ■
Raw Animal Meat ( Cooked) ■ Raw Chicken Soup ( Cooked) ■ Sio-Chiu-Le

Tools

Ancient Clock ■ DinoPedia ■ Javelin ■ Scarab Axe ■ Scarab Hoe ■
Scarab Pickaxe ■ Scarab Shovel ■ Scarab Sword ■ Skull Armor ■
Skull Stick ■ Spawn Eggs ■ Tooth Dagger ■ Whip

Enrichment

Live Coelacanth ( Live Alligator Gar) ( Live Nautilus) ( Live Sturgeon) ■
Toy Ball ■ Tethered Log ■ Scratching Post