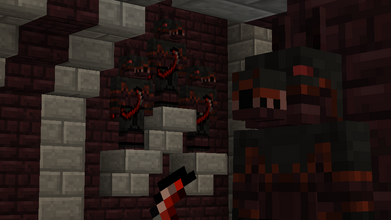 The Anubite Statues are unbreakable statues that are a depiction of the aggressive mob, Anubite. They spawn in Anu's Castle, where they are littered all over and around the castle, at up to one hundred of them. Make absolutely sure that you do not get within five blocks of it (although if you want to get to Anu, you'll have to kill at least a dozen of them). Like bedrock, it is completely unbreakable and cannot be obtained by the player through survival means.
It is much like the Anu Statue, but unlike it, when you get close to the Anubite Statue, it explodes and spawns an Anubite mob.
Right-clicking an anubite statue also causes it to turn to an anubite mob
Appearance
The Anubite Statues are larger than the player, at 2.4 blocks tall, just like their mob form.They look exactly like their mob form, except they are much duller colored. They wear an Ancient Helmet and appear to be holding some kind of kopesh similar to, but unlike the Ancient Sword.
Usage
When approached within five blocks, they will explode and the statue will come to life. They will then attack the player. Be cautious when exploring Anu's Castle, as they are around every corner and you will be forced to fight at least a few of them. When you cause one to explode, you will receive the achievement, Living Statue!
Gallery
Science

Analyzer ■ Archeology Workbench ■ Bubble Blower ■ Culture Vat ■
Feeder ■ Sifter ■ Time Machine

Paleontology

Amber Ore ( Amber) ■ Ancient Ferns ■ Failuresaurus Trail ■ Fossil
( Bio-Fossil) ( Skull) ■ Iced Stone ■ Permafrost ( Frozen Meat) ■ Tar ( Tar Fossil) ■
Volcanic Ash ■ Volcanic Rock ( Brick) (Stair) (Slab)

Archeology

Amphora ■ Ancient Figurines ■ Ancient Glass ■ Ancient Stone ( Brick) (Stair) (Slab) ■
Ancient Treasure Chest ■ Ancient Wood ( Pillar) (Stair) (Slab) ( Plate) ■
Anu Statue ■ Anubite Statue ■ Drum ■ Kylix ■ Mysterious Sarcophagus ■ Volute

Crafted

Calamites Plank ( Door) ( Trapdoor) (Fence) (Stair) (Slab) ■ Dense Sand ■
Obsidian Spikes ■ Palaeoraphe Plank ( Door) ( Trapdoor) (Fence) (Stair) (Slab) ■
Reinforced Glass ■ Skull Lantern

Plants

Archaeosigillaria ■ Bennettitales ■ Calamites Log ( Leaf) ■ Cephalotaxus ■
Crataegus ■ Dillhoffia ■ Duisbergia ■ Ephedra ■ Failure Plant ■
Florissantia ■ Foozia ■ Horsetail ■ Osmunda ■ Palaeoraphe Log ( Leaf) ■
Sarracenia ■ Tempskya ■ Vaccinium ■ Welwitschia ■ Zamites
Community content is available under
CC-BY-SA
unless otherwise noted.