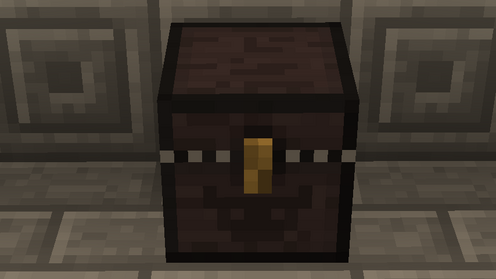 The Ancient Treasure Chest is an Age-Old chest that is locked and spawns only in The Room. It doesn't work like any other chest in the game. It is the only thing inside The Room, aside from the portal that takes you to your spawn point in the overworld. It contains the Ancient Clock, which is the item that makes the Time-Machine work. It is one of the only blocks that has an animation of it moving.
Appearance
The Ancient Treasure Chest is an old black version of a chest. It also has a strange symbol on the front of it, that looks like Anu, the boss of the mod.
Usage
It can only be used if you right-click on it with the Ancient Key, which will slowly open the chest. Then, an Ancient Clock will pop out and it will be yours to take.
Gallery
Science

Analyzer ■ Archeology Workbench ■ Bubble Blower ■ Culture Vat ■
Feeder ■ Sifter ■ Time Machine

Paleontology

Amber Ore ( Amber) ■ Ancient Ferns ■ Failuresaurus Trail ■ Fossil
( Bio-Fossil) ( Skull) ■ Iced Stone ■ Permafrost ( Frozen Meat) ■ Tar ( Tar Fossil) ■
Volcanic Ash ■ Volcanic Rock ( Brick) (Stair) (Slab)

Archeology

Amphora ■ Ancient Figurines ■ Ancient Glass ■ Ancient Stone ( Brick) (Stair) (Slab) ■
Ancient Treasure Chest ■ Ancient Wood ( Pillar) (Stair) (Slab) ( Plate) ■
Anu Statue ■ Anubite Statue ■ Drum ■ Kylix ■ Mysterious Sarcophagus ■ Volute

Crafted

Calamites Plank ( Door) ( Trapdoor) (Fence) (Stair) (Slab) ■ Dense Sand ■
Obsidian Spikes ■ Palaeoraphe Plank ( Door) ( Trapdoor) (Fence) (Stair) (Slab) ■
Reinforced Glass ■ Skull Lantern

Plants

Archaeosigillaria ■ Bennettitales ■ Calamites Log ( Leaf) ■ Cephalotaxus ■
Crataegus ■ Dillhoffia ■ Duisbergia ■ Ephedra ■ Failure Plant ■
Florissantia ■ Foozia ■ Horsetail ■ Osmunda ■ Palaeoraphe Log ( Leaf) ■
Sarracenia ■ Tempskya ■ Vaccinium ■ Welwitschia ■ Zamites
Community content is available under
CC-BY-SA
unless otherwise noted.