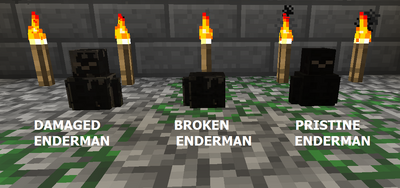 Ancient Figurines are small, old, statue-like figures from a civilization. They can be placed down, like Pottery.
Figurines
Edit
Figurines are small, decaying statues you can find in Temples. You can also obtain them by putting relic scraps in an analyzer.
Variants
Edit
There are 6 different models you find that include: Steve, Skeleton, Zombie, Enderman, Zombie Pigman and a Mysterious Figurine.
All of the types come in 3 different stages: pristine, damaged, and broken; except the Mysterious Figurine which only comes in pristine condition.
Science

Analyzer ■ Archeology Workbench ■ Bubble Blower ■ Culture Vat ■
Feeder ■ Sifter ■ Time Machine

Paleontology

Amber Ore ( Amber) ■ Ancient Ferns ■ Failuresaurus Trail ■ Fossil
( Bio-Fossil) ( Skull) ■ Iced Stone ■ Permafrost ( Frozen Meat) ■
Tar ( Tar Fossil) ■ Volcanic Ash ■ Volcanic Rock ( Brick) (Stair) (Slab)

Archeology

Amphora ■ Ancient Figurines ■ Ancient Glass ■ Ancient Stone ( Brick) (Stair) (Slab) ■ Ancient Treasure Chest ■ Ancient Wood ( Pillar) (Stair) (Slab)
( Plate) ■ Anu Statue ■ Anubite Statue ■ Drum ■ Kylix ■
Mysterious Sarcophagus ■ Volute

Crafted

Dense Sand ■ Obsidian Spikes ■ Palaeoraphe Plank ( Door) ( Trapdoor) (Fence) (Stair) (Slab) ■ Reinforced Glass ■ Skull Lantern

Plants

Bennettitales ■ Cephalotaxus ■ Crataegus ■ Dillhoffia ■ Ephedra ■
Failure Plant ■ Florissantia ■ Foozia ■ Horsetail ■ Lycopodiophyta ■
Osmunda ■ Palaeoraphe Log ( Leaf) ■ Sarracenia ■ Tempskya ■
Vaccinium ■ Welwitschia ■ Zamites