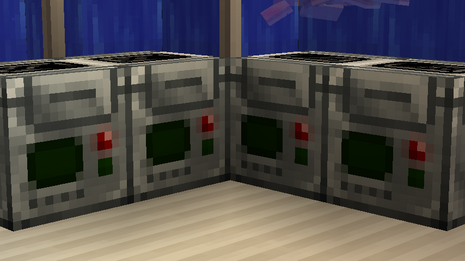 The Analyzer is an extremely important block, that is the basic component to create almost everything else in the mod and is the second step that is needed to create extinct animals or prehistoric plants, or to recreate lost relics, such as pottery and ancient weapons.
Appearance
The Analyzer is a silvery gray block, that takes the form of an old machine with a black top. It has two buttons, a green one and a red one. When not analyzing, it is red. When analyzing, its buttons will turn green, and it will light up.
Recipe
Usage
To use the Analyzer, you must have one of several required Items listed below to power it. After you get one or more of these items, put them in any block of the Analyzer GUI, and the Items will quickly be analyzed into working objects and will be placed in one of the four Analyzer slots.
After Bio-Fossils or Plant Fossils are analyzed and turned into DNA or seeds, the next step in cloning an extinct species is making a Culture Vat. To restore any broken artifacts received from Relic Scraps, the player must put them in an Archeology Workbench.
Items That Can Be Analyzed
Keep in mind that there is a high chance that the Analyzer gives back random junk. The player can put the following items in an analyzer:
Junk
Sand
Bonemeal
Gravel
Flint
Meat
Coal
Cactus Green (Helpful if you are far from a desert biome)
String
Gallery
Science

Analyzer ■ Archeology Workbench ■ Bubble Blower ■ Culture Vat ■
Feeder ■ Sifter ■ Time Machine

Paleontology

Amber Ore ( Amber) ■ Ancient Ferns ■ Failuresaurus Trail ■ Fossil
( Bio-Fossil) ( Skull) ■ Iced Stone ■ Permafrost ( Frozen Meat) ■ Tar ( Tar Fossil) ■
Volcanic Ash ■ Volcanic Rock ( Brick) (Stair) (Slab)

Archeology

Amphora ■ Ancient Figurines ■ Ancient Glass ■ Ancient Stone ( Brick) (Stair) (Slab) ■
Ancient Treasure Chest ■ Ancient Wood ( Pillar) (Stair) (Slab) ( Plate) ■
Anu Statue ■ Anubite Statue ■ Drum ■ Kylix ■ Mysterious Sarcophagus ■ Volute

Crafted

Calamites Plank ( Door) ( Trapdoor) (Fence) (Stair) (Slab) ■ Dense Sand ■
Obsidian Spikes ■ Palaeoraphe Plank ( Door) ( Trapdoor) (Fence) (Stair) (Slab) ■
Reinforced Glass ■ Skull Lantern

Plants

Archaeosigillaria ■ Bennettitales ■ Calamites Log ( Leaf) ■ Cephalotaxus ■
Crataegus ■ Dillhoffia ■ Duisbergia ■ Ephedra ■ Failure Plant ■
Florissantia ■ Foozia ■ Horsetail ■ Osmunda ■ Palaeoraphe Log ( Leaf) ■
Sarracenia ■ Tempskya ■ Vaccinium ■ Welwitschia ■ Zamites
Community content is available under
CC-BY-SA
unless otherwise noted.